Viral Video: Ranveer Singh gives gajar ka halwa twist to 'Pawri Ho Rahi Hai'
Viral Video: Ranveer Singh gives gajar ka halwa twist to 'Pawri Ho Rahi Hai'
<!–

–>
Ranveer Singh made the super fun video with his fan Muskaan Arora giving a unique take on the viral 'Pawri Ho Rahi Hai'.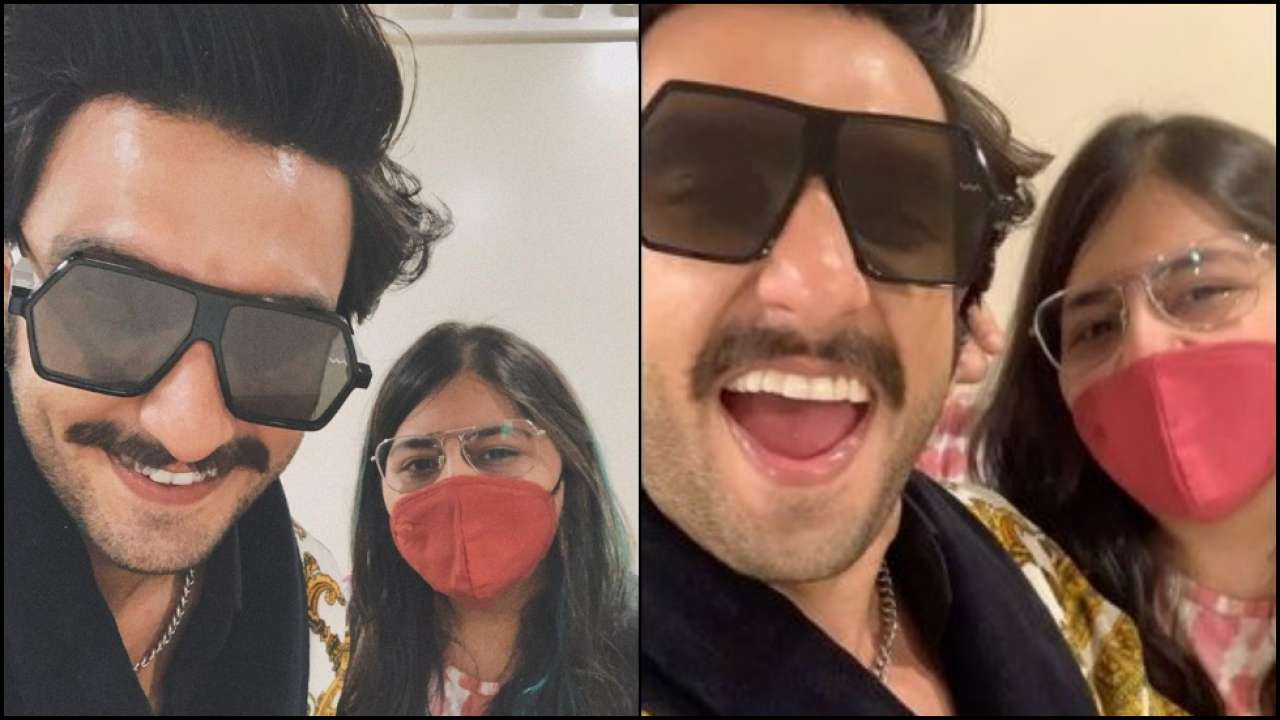 <!– Ranveer Singh –> Instagram: @ranveersingh.india.fc
Edited By
Aishwarya Vasudevan
Updated: Feb 23, 2021, 11:53 AM IST
Ranveer Singh has joined the 'Pawri Ho Rahi Hai' gang with a sweet twist. The talented actor met up with one of his biggest fans who treated him with gajar ka halwa. Beaming with happiness, Ranveer decided to make a video on it with his fan Muskaan Arora and the sweet dish she got for him. The video is shared by her on Instagram and is being truly loved by the netizens.
In the video, Ranveer is heard saying, "Yeh Humara Gajar Ka Halwa Hai, Yeh Hum Hai, Aur Yahaanpe Pawri Ho Rahi Hai!" The video is captioned as "Ye hamari pawri ho rahi hai. The man with a golden heart. Thank you for today baba you made my day. Proud to be your fan always and forever @ranveersingh #ranveersingh. Thank you to everyone who made an effort to make this come true #ranveersingh #baba #king #singh #RS #bollywood #kingofbollywood @ranveeriansworldwidefc @ranveersinghsfanclub @ranveersinghtbt_ @ranveer_ka_fanclub @ranveer_singhbig_fan."
Check out the video below:
Muskaan shared a selfie with Ranveer and wrote, "May you reach great heights baba and always be the way you are. Keep shining bright, love you always & forever. Thank you for today 22/2/21 #ranveersingh #baba #RS #king #kingofbollywood."
Meanwhile, on the work front, Ranveer's upcoming film 83 directed by Kabir Khan finally gets a release date. The film is hitting the big screens on June 4, 2021.
Currently, Ranveer is shooting for Rohit Shetty directorial Cirkus alongside Varun Sharma, Jacqueline Fernandez and Pooja Hegde. The film will be releasing the end of this year.
li.pager-next > a:last ', content: content_class, insertBefore: before_id, start: function(current, next) { console.log("Event: autopager start"); $("li.pager-next a").attr("rel","next"); updatePage(page_type); }, load: function(current, next) { console.log("Event: autopager load complete"); var urlt = current.url; if(!(urlt.indexOf('dnaindia') !== -1)) { url = protocol + '//www.dnaindia.com'+urlt; } else { url = urlt; } if(page_type=='section' || page_type=='explore'){ updateSectionnext(url); } if(page_type=='article' ||page_type=='live_blog' || page_type=='video' || page_type=='slideshow'){ updateArticlenext(url); } if(page_type =='1′ || page_type == "topic" || page_type == "videos" || page_type == "photo_gallery" || page_type == "exclusives" || page_type == "authortopic" || page_url == 'elections/lok-sabha-election-2019-photos' || page_url == 'elections/lok-sabha-election-2019-videos') { updateTopicnext(url); } if(page_type == 'author'){ updateAuthorsnext(url); } if(page_type == "article" || page_type == "live_blog") { window.newVuukleWidgets({ elementsIndex: nid, articleId: nid, img:protocol + "//www.dnaindia.com/default/files/styles/full/public/"+articleimage+"", title: articletitle, tags: ", url: "+url+" }); } if(page_type == 'video') { var video_url = $('#testpreview-' + nid).attr('video-code'); var video_thumb = $('#testpreview-' + nid).attr('video-thumb'); console.log('nid:' + nid); console.log('video url:' + video_url); console.log('video thumb:' + video_thumb); } pingGoogleAnalytics(urlt); refreshGoogleAds(url,page_type,current.page); refreshSocialPlugins(url); } }); var layout = $(window); var previousScroll = 0; $( layout ).scroll(function() { var last = $('#footer').filter(':last'); lastoff = last.offset(); var currentScroll = $(this).scrollTop(); if (currentScroll > previousScroll){ _up = false; }else{ _up = true; } previousScroll = currentScroll; var cutoff = $(window).scrollTop() + 64; $('div[id^="article-"]').each(function(){ if($(this).offset().top + $(this).height() > cutoff) { if(prevLoc != $(this).attr('data-url')){ prevLoc = $(this).attr('data-url'); $('html head').find('title').text($(this).attr('data-title')) window.history.pushState("", "", prevLoc); } return false; } }); if(last.offset().top – 800 + last.height() previousScroll){ _up = false; } else{ _up = true; } previousScroll = currentScroll; var cutoff = $(window).scrollTop() + 64; $('div[id^="section-"]').each(function(){ if($(this).offset().top + $(this).height() > cutoff) { if(prevSectionLoc != $(this).attr('data-url')){ prevSectionLoc = $(this).attr('data-url'); window.history.pushState("", "", prevSectionLoc); var urlstr = prevSectionLoc; var urlarray = urlstr.split('https://www.dnaindia.com/'); pingGoogleAnalytics(urlarray[1]); } return false; } }); }); function updatePage(){ console.log('updatePage()'); $("a[rel^='next']").addClass('norel').removeAttr('rel'); $(".nextstory").removeClass('.nextstory'); $(".nextstorylink").removeClass('.nextstorylink'); $(".nextstory").removeAttr('class'); } function pingGoogleAnalytics(url){ console.log('pingGoogleAnalytics('+url+')'); gtag('config', 'UA-1626889-1', {'page_path': url }); } function pushGoogleAd(slotId, size, wrapperId) { googletag.cmd.push(function() { var slot = googletag.defineSlot(slotId, size, wrapperId); slot.addService(googletag.pubads()); googletag.display(wrapperId); googletag.pubads().refresh([slot]); }); } function refreshGoogleAds(url, page_type, page_no){ console.log('refreshGoogleAds('+url+')'); if(page_type=='article' || page_type=='slideshow' || page_type=='video' || page_type=='live_blog'){ res = (url).split("-"); nid = res.slice(-1)[0]; ad1 = 'ad-1-'+nid; ad2 = 'ad-2-'+nid; ad3 = 'ad-3-'+nid; ad4 = 'ad-4-'+nid; if(page_type=='slideshow' || page_type=='video') { ad_sld_1 = 'ad-sld-1-'+nid; ad_sld_2 = 'ad-sld-2-'+nid; // pushGoogleAd('/11440465/DNA_Web/dna_ptg_300x250', [300, 250], ad_sld_1); // pushGoogleAd('/11440465/DNA_Web/DNA_PTG_300x250_1', [300, 250], ad_sld_2); // pushGoogleAd('/11440465/DNA_Web/DNA_AL_ATF_300x250', [300.0, 250.0], ad1); // pushGoogleAd('/11440465/DNA_Web/DNA_AL_BTF_970x90', [[970, 66], [728, 90], [970, 90]], ad4); } else { //pushGoogleAd('/11440465/DNA_Web/DNA_AS_Inarticle_1_300x250', [300.0, 250.0], ad2); //pushGoogleAd('/11440465/DNA_Web/DNA_AS_Inarticle_2_300x250', [300.0, 250.0], ad3); //pushGoogleAd('/11440465/DNA_Web/DNA_AS_BTF_970x90', [[970, 66], [728, 90], [970, 90]], ad4); } }else{ page_no = page_no-1; ad1 = 'ad-1-'+page_no; ad2 = 'ad-2-'+page_no; } } function refreshSocialPlugins(url){ if(page_type=='article' || page_type=='slideshow' || page_type=='video' || page_type=='live_blog'){ res = (url).split("-"); nid = res.slice(-1)[0]; if(typeof FB != "undefined"){ fbcomm = '.comments-'+nid; fburl = protocol + '//www.dnaindia.com'+url; $(fbcomm).attr('data-href', fburl); FB.XFBML.parse(); } if(typeof twttr != "undefined"){twttr.widgets.load();console.log('twitter'); } if(typeof instgrm != "undefined"){window.instgrm.Embeds.process();console.log('instgram'); } if(typeof OBR != "undefined"){OBR.extern.researchWidget(); console.log('obr');} } } function updateArticlenext(url){ var res = (url).split("-"); nid = res.slice(-1)[0]; articletitle = $('#article-node-'+nid).attr('data-title'); articleimage = $('#article-node-'+nid).attr('data-imageurl'); target = $('#article-'+nid+' .articllftpbx').height(); $('#article-'+nid+' .node-breadcrumb').css('display','none'); $('#article-'+nid).css('margin-top','-100px'); $('#article-'+nid+' .sporthd.photodtlhedbx').css('display','none'); $('#article-'+nid+' .videorhs').css('display','none'); $('#article-'+nid+' .sporthd').css('display','none'); $('#article-'+nid+' .slideshowrhs').css('display','none'); } function updateSectionnext(url){ var res = (url).split(protocol + "//www.dnaindia.com"); var res1 = (url).split("?page="); $( "#nextsections" ).prev( ".nextsection" ).attr('id',"section-"+res1[1]); $( "#nextsections" ).prev( ".nextsection" ).attr('data-url', protocol + "//www.dnaindia.com"+res[1]); $('link[rel=next]').attr('href', protocol + "//www.dnaindia.com"+res[1]) window.history.pushState("", "", res[1]); } function updateTopicnext(url){ var res = (url).split(protocol + "//www.dnaindia.com"); var res1 = (url).split("?page="); $( "#nexttopics" ).prev( ".topicnext" ).attr('id',"section-"+res1[1]); $( "#nexttopics" ).prev( ".topicnext" ).attr('data-url', protocol + "//www.dnaindia.com"+res[1]); $('link[rel=next]').attr('href', protocol + "//www.dnaindia.com"+res[1]) window.history.pushState("", "", res[1]); } function updateAuthorsnext(url){ var res = (url).split(protocol + "//www.dnaindia.com"); var res1 = (url).split("?page="); $( "#nexttopics" ).prev( ".topicnext" ).attr('id',"section-"+res1[1]); $( "#nexttopics" ).prev( ".topicnext" ).attr('data-url', protocol + "//www.dnaindia.com"+res[1]); $('link[rel=next]').attr('href', protocol + "//www.dnaindia.com"+res[1]) window.history.pushState("", "", res[1]); } } ]]>
<![CDATA[ function openCity(evt, cityName) { var i, tabcontent, tablinks; tabcontent = document.getElementsByClassName("tabcontent"); for (i = 0; i < tabcontent.length; i++) { tabcontent[i].style.display = "none"; } tablinks = document.getElementsByClassName("tablinks"); for (i = 0; i <![CDATA[ var getUrlParameter = function getUrlParameter(sParam) { var sPageURL = window.location.search.substring(1), sURLVariables = sPageURL.split('&'), sParameterName, i; for (i = 0; i
Source →
Viral Video: Ranveer Singh gives gajar ka halwa twist to 'Pawri Ho Rahi Hai'
---
LetsParWy.COM
Content Published By