La Coupole / BRASSERIE – LIVRAISON DE FRUITS DE MER
<!–La Coupole / BRASSERIE – LIVRAISON DE FRUITS DE MER / PARIS<![CDATA[]]><![CDATA[]]><![CDATA[]]>

Welcome to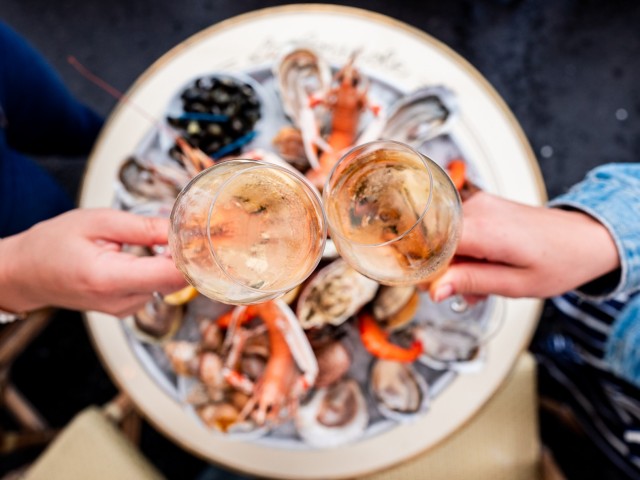 La Coupole
Since 1927 La Brasserie La Coupole has been a symbol of the history of Montparnasse. In an art deco decor, listed as a historical heritage, the Chef offers essential dishes from the great Parisian Brasseries such as the Grenoble-style stripe, the real pepper steak and the seafood platters …
Find the famous lamb curry in La Coupole Indian since 1927, served by cart. In the Roaring Twenties, La Coupole appeared as a window to the world that allowed guests to discover the Indian-style lamb curry served by an Indian in a sumptuous costume.
La Coupole adapts to all your desires, from breakfast, lunch, dinner, to aperitif time with its creative cocktails and its American bar.
Discover our private lounge for your dance evenings and seminars.
La Coupole BRASSERIE – LIVRAISON DE FRUITS DE MER PARIS
Cuisine
Traditional cuisine, French, Brewery, Seafood
Business type
BRASSERIE – LIVRAISON DE FRUITS DE MER
Services
Terrace, Groups, Bookings, Continuous Service, Room service, Take Away Order, Takeaway seafood, Take Away
Payment methods
Debit Card, American Express, Visa, Cash, Eurocard/Mastercard
Access
Underground
Vavin (ligne 4), Montparnasse Bienvenue (Ligne 4,6,12,13)
Parking
Parking Raspail Montparnasse

<![CDATA[]]> <![CDATA[]]><![CDATA[]]> <!–
–>
<![CDATA[ { var wisdom = document.getElementById('wisdom'); sendRequestData(wisdom, 'chat-is-opened'); var zenbotWrapper = document.getElementById('zenbot-modal-wrapper'); var zenbotBadgeIcon = document.querySelector('.zenbot-icon-logo img'); var zenbotBadgeCross = document.querySelector('.boticon-ic_cross'); if (zenbotWrapper.className !== 'zenbot-modal-wrapper active') { zenbotWrapper.classList.add('active'); zenbotWrapper.classList.remove('hide'); zenbotBadgeIcon.classList.remove('active'); zenbotBadgeCross.classList.add('active'); if(window.innerWidth ]]>
Source →
La Coupole / BRASSERIE – LIVRAISON DE FRUITS DE MER
---
LetsParWy.COM
Content Published By