Mumbai: Youth Convicted In The Infamous Shakti Mills Gangrape Case Forms Own Gang, Now Gets Arrested For Stabbing Drug Peddler
Mumbai (Maharashtra): Failing to get himself reformed at a juvenile home, a man who was convicted in the infamous Shakti Mills gangrape case while he was 17, was arrested against again by Mumbai Crime Branch for allegedly stabbing a man in Bandra last week. 
A team of Crime Branch arrested Akash, 23 who was convicted in Shakti Mills gang rape case in 2013, along with his accomplice Ankit Naik in Dombivli city of Thane district. "Akash, who was 17 then, was released from juvenile jail and committed crimes after that. He has many cases registered against him–kidnapping, extortion, murder, attempt to murder," the police said in a statement, reported ANI. 
Reports say habitual offender Jadhav and his associate, Ankit Naik, 25, both allegedly stabbed Rizwan Shafi Qureshi, 28, with a knife in Bandra (West)on February 28.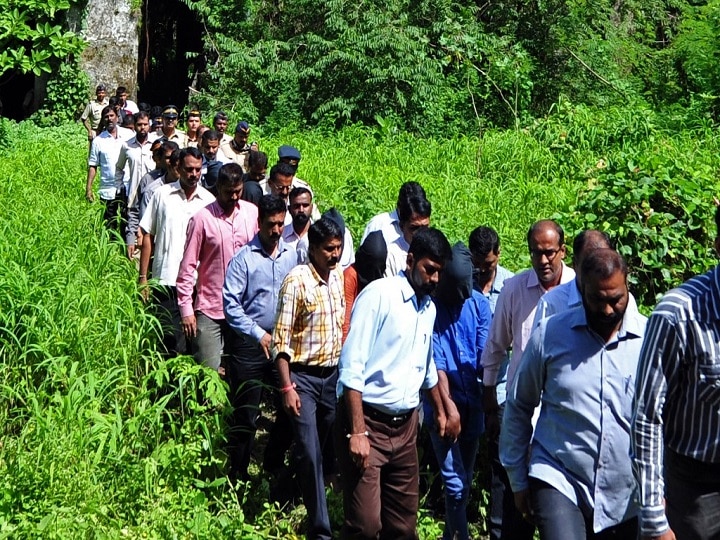 (Policemen escort suspects, their heads covered in black hoods, as they exit the Shakti Mills compound, the scene of last week's gang rape of a female photojournalist, in Mumbai on August 28, 2013. Mumbai police August 28 took the five arrested suspects to the crime scene of an abandoned mill compound for a reconstruction of events. Mumbai's top policeman has drawn anger in the wake of the gang-rape of a young photographer by suggesting that people must choose between a "promiscuous culture" that allows public kissing, or a city made safe by "moral policing". PIC/AFP)
Aaksha Jadhav launched a gang of his own after being released
Akash Jadhav has over 10 criminal cases against him since he was released from Nashik Borstal School in July 2017.
Jadhav was a minor when he was apprehended along with four others for raping a photojournalist on the deserted premises of the defunct Shakti Mills in central Mumbai in August 2013. He was subsequently convicted by the Juvenile Justice Board here and spent two years at a correctional centre before being released.
Áccording to news agency PTI, Jadhav's aide had demanded mephedrone drug from the injured man which led to an argument and a scuffle between the trio and later the stabbing.
The injured man is undergoing treatment at a civic-run hospital in Sion.
An offence under IPC sections 326 (voluntarily causing grievous hurt by dangerous weapons or means) and 34 (acts done by several persons in furtherance of common intention) was registered at the Bandra Police Station.
Not learning from his past mistakes, Jadhav once out of detention actively got involved in criminal activities and also formed his own gang
Jadhav and Naik will be produced before a court today. 
Source →
Mumbai: Youth Convicted In The Infamous Shakti Mills Gangrape Case Forms Own Gang, Now Gets Arrested For Stabbing Drug Peddler
---
LetsParWy.COM
Content Published By