Pawri, Cannoli, Strings: The 5 biggest news on social media in 2021 | Pakistan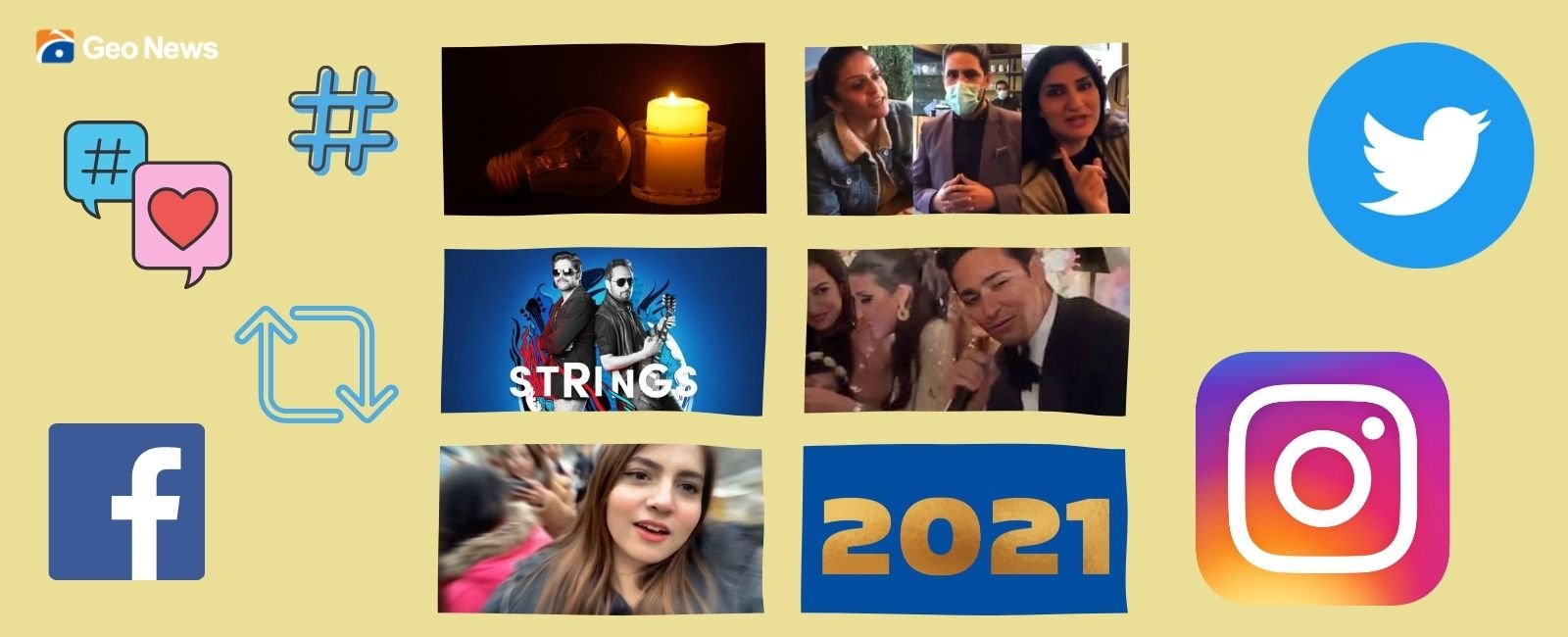 Illustration: Sana Batool
These days news doesn't just break on conventional media, at times, it first hits the social media before overtaking the airwaves.
2021 was no different.
New reports and development came at us at breakneck speed. And it wasn't always easy to stay up to speed. But don't worry, we have got you covered, in case you missed it.
Here is the news that made the biggest splash on social media and got everyone talking in Pakistan:

Shortly before midnight on January 10, Pakistan was in the grip of darkness, as a drop in frequency in the power transmission grid resulted in a large-scale power failure.
The disruption hit Karachi, Rawalpindi, Lahore, Islamabad, Multan, and other major cities of the country.
The fault had occurred in the country's high transmission system, causing the frequency of the system to drop from 50 to 0 in less than a second and owing to low frequency, power plants had to be quickly shut down.
But netizens decided to keep themselves entertained during the power outages by spawning memes and jokes.


Earlier this year, a video of two women, who owned a high-end restaurant, 'Cannoli', in Islamabad, went viral. And for all the wrong reasons. The women could be seen in the recording ridiculing their manager's English language skills.
But social media was not laughing. Soon after, #BoycottCannoli remained Pakistan's top trending topic for several days:

During the difficult times that emerged following the COVID-19 pandemic, social media served as a platform for budding talent as well as a stress reliever for young people, who discovered a unique way to celebrate with the new anthem, #PawriHoRahiHai.
The party or pawri began with a viral social media meme featuring Pakistani influencer and content-creator Dananeer Mobeen, who brought together all the Desi memers and 'pawri' enthusiasts!
Dananeer, a 19-year-old Peshawar-based social media star, was seen in the video having a good time with her friends and saying out loud: "Yeh hamari car hei aur yeh hum hein, aur yeh hamari Pawri horahi hei."
#PawriHoriHai was later converted into a catchy number by Indian music composer Yashraj Mukhate.

Quickly joining the "Pawri" league, the Pakistan Cricket Board published a video of the Pakistani national team performing their own rendition of the viral meme.
Millions of hearts in Pakistan were broken, and nostalgia took over the internet as the rock-band, Strings, announced their 33-year-long music partnership had come to an end.
The band created by Faisal Kapadia, Bilal Maqsood, Adeel Ali, Haider Ali, Aahad Nayani, and Bradley D'Souza, broke the news on their Instagram account, expressing their gratitude to their fans.
After that, well, let's just say we were all fighting back tears:

In August, right after Junaid Safdar, politician Maryam Nawaz Sharif's son, shared a video from his wedding festivities in London singing the hit Bollywood single, "kya hua tera waada", the internet was flattered.
"Junaid Safdar once again seen following the instructions of his beloved uncle, @hamza.shehbaz.sharif," wrote under Junaid's post.
Pakistan social media and politicians united in praising Safdar's vocal cords:

Source →
Pawri, Cannoli, Strings: The 5 biggest news on social media in 2021 | Pakistan
---
LetsParWy.COM
Content Published By