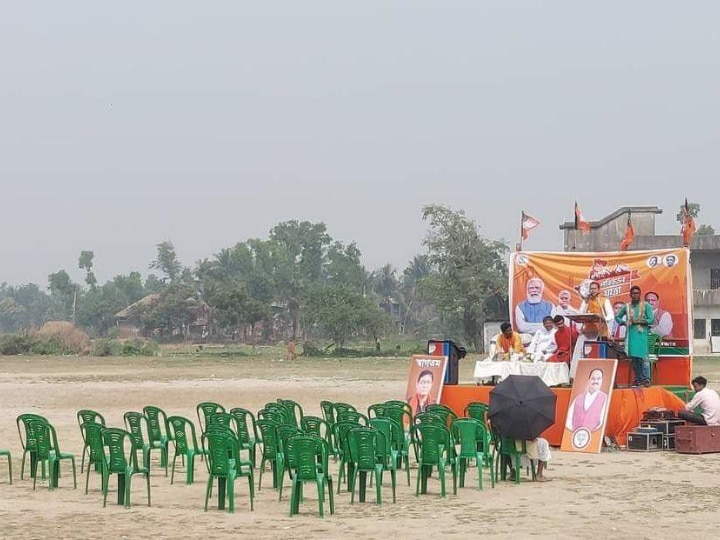 The ruling Trinamool Congress has locked horns with the rivalry Bharatiya Janata Party in a social media war ahead of the West Bengal assembly elections. Chief Minister Mamata Banerjee-led TMC party a day after launching its poll slogan countered saffron party's rendition and mocked the BJP using the viral "Pawri ho rahi hai" trend on Twitter. ALSO READ | 'Bengal Wants Its Own Daughter': TMC's Poll Slogan Hails CM Mamata As 'Insider', BJP Leaders 'Outsider'
"Yeh @BJP4Bengal hai. Yeh unki jansabha hai. Aur yahaan inki pawri ho rahi hai! (This is Bengal BJP. This is their public meeting. And they have a party going on.)" the All India Trinamool Congress tweeted sharing a picture of empty chairs at a BJP event.
Yeh @BJP4Bengal hai.
Yeh unki jansabha hai.
Aur yahaan inki pawri ho rahi hai!

???? pic.twitter.com/2mCB2aTedx

— All India Trinamool Congress (@AITCofficial) February 21, 2021
Since being shared on the Twitter, the post has received over 5,000 likes and has been retweeted over thousand times.
The jibe at the rivalry party came a day after BJP on Saturday released a music video on the tunes of the popular Italian protest folk song 'Bella Ciao', converting it to say "Pishi Jao" which means "Go Away Aunty."
BJP's take was in reference with the poll slogan launched by the TMC. Portraying chief minister Mamata Banerjee as the daughter of Bengal,TMC launched the poll slogan – Bangla Nijer Meyekei Chaye', which translates to 'Bengal wants its own daughter'.
The slogan was accompanied with Banerjee's photo on the hoardings which were officially launched by the state's ruling party across Kolkata.
ALSO READ | Mamata Banerjee Targets BJP, Alleges 'Conspiracy' Behind Bomb Attack On Jakir Hossain
Polls to the 294-member West Bengal Assembly is expected to be held sometime in April-May this year. Though the Election Commission is yet to announce the dates, the polling body has begun the training of over 20,000 polling officers in the state.
Meanwhile, the major political parties which mainly include TMC, BJP and Indian National Congress, are running their poll campaign in the state in full swing. The Mamata led-TMC is already engaged in a political spat with the saffron party led by Amit Shah-JP Nadda.