Viral: Mithun Chakraborty's daughter-in-law Madalsa Sharma dances with mom Sheela on popular Justin Timberlake song
Viral: Mithun Chakraborty's daughter-in-law Madalsa Sharma dances with mom Sheela on popular Justin Timberlake song
<!–

–>
Madalsa Sharma aka 'Anupamaa' show's Kavya often shares dancing videos with her mom Sheela Sharma.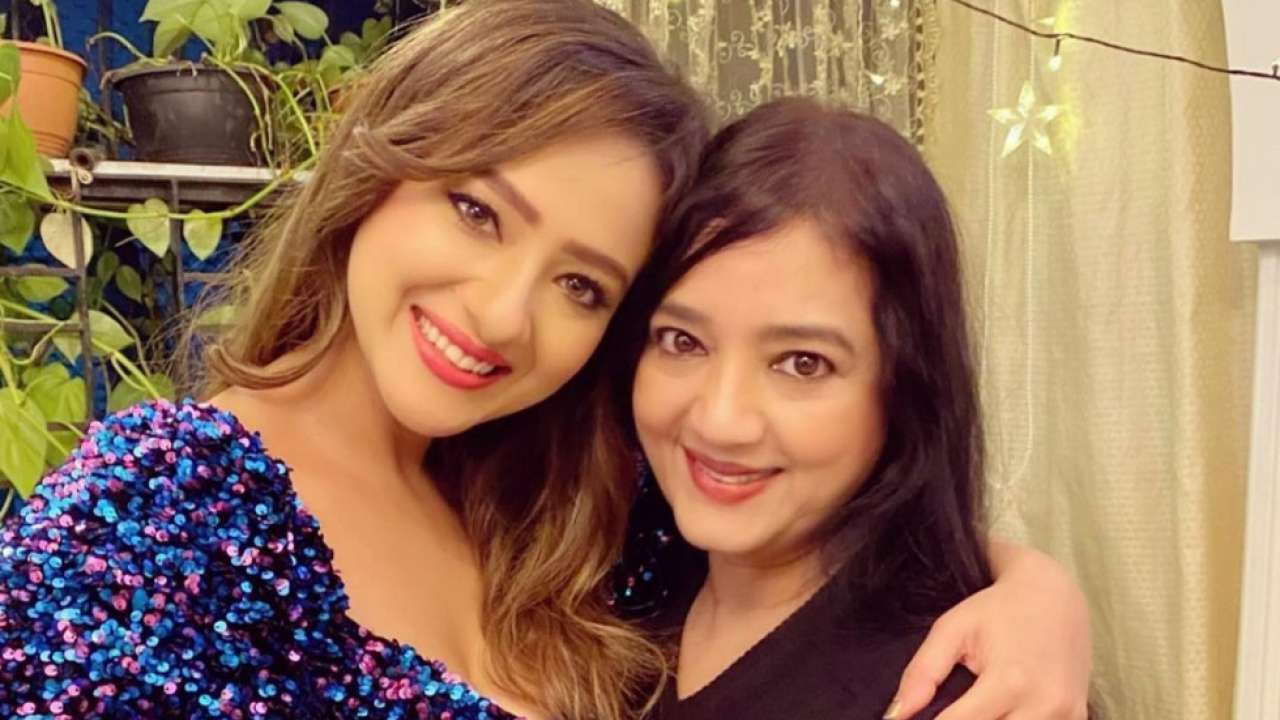 <!– Madalsa Sharma, Sheela S Sharmaa –> Instagram: @madalsasharma
Edited By
Aishwarya Vasudevan
Updated: Apr 7, 2021, 08:30 AM IST
Madalsa Sharma who is Mithun Chakraborty's son Mahaakshay Chakraborty's wife is currently a popular star on TV. She plays the role of Kavya Gandhi in the hit serial Anupamaa and has a strong Instagram game too. Not just that, Madalsa is the daughter of popular actor Sheela Sharma and they often share their reel videos which go viral on the Internet in no time.
On Monday, Madalsa took to her Instagram page and shared a reel in which she is dancing with her mom Sheela on the chartbuster Justin Timberlake song 'SexyBack' featuring Timbaland. Both of them are seen twinning in black and showing their fun and cool dancing skills.
While sharing the video, Madalsa wrote, "Yeh main hoon, yeh meri Mumma hai, aur yeh humari dance pawri ho rahi hai!!! Hope this made you smile in the midst of all the chaos… @sheelassharmaa #reels #reelsinstagram #madalsasharma #sheelasharma #kavya #pawrihoraihai #sexyback #momdaughter #unconditionallove #instavideo #instadaily #instagood #instamood #mood #videooftheday #reelitfeelit #reelkarofeelkaro #dance #love #actorslife."
Check out the video below:
Talking about her personal life, Madalsa and Mahaakshay tied the knot in 2018 after a long courtship.
Currently, the actor is slaying as Kavya in Anupamaa. The shoot has witnessed some changes as the lead actor Rupali Ganguly recently tested positive for coronavirus.
Talking about the same, Madalsa told The Times of India, "We are taking all necessary precautions on the sets of Anupamaa to keep the virus at bay. I hope that Rupali Ganguly, Ashish Mehrotra and our producer get well soon so that we can work together. I am in touch with them and everyone else, too, on sets, is in touch with them."
li.pager-next > a:last ', content: content_class, insertBefore: before_id, start: function(current, next) { console.log("Event: autopager start"); $("li.pager-next a").attr("rel","next"); updatePage(page_type); }, load: function(current, next) { console.log("Event: autopager load complete"); var urlt = current.url; if(!(urlt.indexOf('dnaindia') !== -1)) { url = protocol + '//www.dnaindia.com'+urlt; } else { url = urlt; } if(page_type=='section' || page_type=='explore'){ updateSectionnext(url); } if(page_type=='article' ||page_type=='live_blog' || page_type=='video' || page_type=='slideshow'){ updateArticlenext(url); } if(page_type =='1′ || page_type == "topic" || page_type == "videos" || page_type == "photo_gallery" || page_type == "exclusives" || page_type == "authortopic" || page_url == 'elections/lok-sabha-election-2019-photos' || page_url == 'elections/lok-sabha-election-2019-videos') { updateTopicnext(url); } if(page_type == 'author'){ updateAuthorsnext(url); } if(page_type == "article" || page_type == "live_blog") { window.newVuukleWidgets({ elementsIndex: nid, articleId: nid, img:protocol + "//www.dnaindia.com/default/files/styles/full/public/"+articleimage+"", title: articletitle, tags: ", url: "+url+" }); } if(page_type == 'video') { var video_url = $('#testpreview-' + nid).attr('video-code'); var video_thumb = $('#testpreview-' + nid).attr('video-thumb'); console.log('nid:' + nid); console.log('video url:' + video_url); console.log('video thumb:' + video_thumb); } pingGoogleAnalytics(urlt); refreshGoogleAds(url,page_type,current.page); refreshSocialPlugins(url); } }); var layout = $(window); var previousScroll = 0; $( layout ).scroll(function() { var last = $('#footer').filter(':last'); lastoff = last.offset(); var currentScroll = $(this).scrollTop(); if (currentScroll > previousScroll){ _up = false; }else{ _up = true; } previousScroll = currentScroll; var cutoff = $(window).scrollTop() + 64; $('div[id^="article-"]').each(function(){ if($(this).offset().top + $(this).height() > cutoff) { if(prevLoc != $(this).attr('data-url')){ prevLoc = $(this).attr('data-url'); $('html head').find('title').text($(this).attr('data-title')) window.history.pushState("", "", prevLoc); } return false; } }); if(last.offset().top – 800 + last.height() previousScroll){ _up = false; } else{ _up = true; } previousScroll = currentScroll; var cutoff = $(window).scrollTop() + 64; $('div[id^="section-"]').each(function(){ if($(this).offset().top + $(this).height() > cutoff) { if(prevSectionLoc != $(this).attr('data-url')){ prevSectionLoc = $(this).attr('data-url'); window.history.pushState("", "", prevSectionLoc); var urlstr = prevSectionLoc; var urlarray = urlstr.split('https://www.dnaindia.com/'); pingGoogleAnalytics(urlarray[1]); } return false; } }); }); function updatePage(){ console.log('updatePage()'); $("a[rel^='next']").addClass('norel').removeAttr('rel'); $(".nextstory").removeClass('.nextstory'); $(".nextstorylink").removeClass('.nextstorylink'); $(".nextstory").removeAttr('class'); } function pingGoogleAnalytics(url){ console.log('pingGoogleAnalytics('+url+')'); gtag('config', 'UA-1626889-1', {'page_path': url }); } function pushGoogleAd(slotId, size, wrapperId) { googletag.cmd.push(function() { var slot = googletag.defineSlot(slotId, size, wrapperId); slot.addService(googletag.pubads()); googletag.display(wrapperId); googletag.pubads().refresh([slot]); }); } function refreshGoogleAds(url, page_type, page_no){ console.log('refreshGoogleAds('+url+')'); if(page_type=='article' || page_type=='slideshow' || page_type=='video' || page_type=='live_blog'){ res = (url).split("-"); nid = res.slice(-1)[0]; ad1 = 'ad-1-'+nid; ad2 = 'ad-2-'+nid; ad3 = 'ad-3-'+nid; ad4 = 'ad-4-'+nid; if(page_type=='slideshow' || page_type=='video') { ad_sld_1 = 'ad-sld-1-'+nid; ad_sld_2 = 'ad-sld-2-'+nid; // pushGoogleAd('/11440465/DNA_Web/dna_ptg_300x250', [300, 250], ad_sld_1); // pushGoogleAd('/11440465/DNA_Web/DNA_PTG_300x250_1', [300, 250], ad_sld_2); // pushGoogleAd('/11440465/DNA_Web/DNA_AL_ATF_300x250', [300.0, 250.0], ad1); // pushGoogleAd('/11440465/DNA_Web/DNA_AL_BTF_970x90', [[970, 66], [728, 90], [970, 90]], ad4); } else { //pushGoogleAd('/11440465/DNA_Web/DNA_AS_Inarticle_1_300x250', [300.0, 250.0], ad2); //pushGoogleAd('/11440465/DNA_Web/DNA_AS_Inarticle_2_300x250', [300.0, 250.0], ad3); //pushGoogleAd('/11440465/DNA_Web/DNA_AS_BTF_970x90', [[970, 66], [728, 90], [970, 90]], ad4); } }else{ page_no = page_no-1; ad1 = 'ad-1-'+page_no; ad2 = 'ad-2-'+page_no; } } function refreshSocialPlugins(url){ if(page_type=='article' || page_type=='slideshow' || page_type=='video' || page_type=='live_blog'){ res = (url).split("-"); nid = res.slice(-1)[0]; if(typeof FB != "undefined"){ fbcomm = '.comments-'+nid; fburl = protocol + '//www.dnaindia.com'+url; $(fbcomm).attr('data-href', fburl); FB.XFBML.parse(); } if(typeof twttr != "undefined"){twttr.widgets.load();console.log('twitter'); } if(typeof instgrm != "undefined"){window.instgrm.Embeds.process();console.log('instgram'); } if(typeof OBR != "undefined"){OBR.extern.researchWidget(); console.log('obr');} } } function updateArticlenext(url){ var res = (url).split("-"); nid = res.slice(-1)[0]; articletitle = $('#article-node-'+nid).attr('data-title'); articleimage = $('#article-node-'+nid).attr('data-imageurl'); target = $('#article-'+nid+' .articllftpbx').height(); $('#article-'+nid+' .node-breadcrumb').css('display','none'); $('#article-'+nid).css('margin-top','-100px'); $('#article-'+nid+' .sporthd.photodtlhedbx').css('display','none'); $('#article-'+nid+' .videorhs').css('display','none'); $('#article-'+nid+' .sporthd').css('display','none'); $('#article-'+nid+' .slideshowrhs').css('display','none'); } function updateSectionnext(url){ var res = (url).split(protocol + "//www.dnaindia.com"); var res1 = (url).split("?page="); $( "#nextsections" ).prev( ".nextsection" ).attr('id',"section-"+res1[1]); $( "#nextsections" ).prev( ".nextsection" ).attr('data-url', protocol + "//www.dnaindia.com"+res[1]); $('link[rel=next]').attr('href', protocol + "//www.dnaindia.com"+res[1]) window.history.pushState("", "", res[1]); } function updateTopicnext(url){ var res = (url).split(protocol + "//www.dnaindia.com"); var res1 = (url).split("?page="); $( "#nexttopics" ).prev( ".topicnext" ).attr('id',"section-"+res1[1]); $( "#nexttopics" ).prev( ".topicnext" ).attr('data-url', protocol + "//www.dnaindia.com"+res[1]); $('link[rel=next]').attr('href', protocol + "//www.dnaindia.com"+res[1]) window.history.pushState("", "", res[1]); } function updateAuthorsnext(url){ var res = (url).split(protocol + "//www.dnaindia.com"); var res1 = (url).split("?page="); $( "#nexttopics" ).prev( ".topicnext" ).attr('id',"section-"+res1[1]); $( "#nexttopics" ).prev( ".topicnext" ).attr('data-url', protocol + "//www.dnaindia.com"+res[1]); $('link[rel=next]').attr('href', protocol + "//www.dnaindia.com"+res[1]) window.history.pushState("", "", res[1]); } } ]]>
<![CDATA[ function openCity(evt, cityName) { var i, tabcontent, tablinks; tabcontent = document.getElementsByClassName("tabcontent"); for (i = 0; i < tabcontent.length; i++) { tabcontent[i].style.display = "none"; } tablinks = document.getElementsByClassName("tablinks"); for (i = 0; i <![CDATA[ var getUrlParameter = function getUrlParameter(sParam) { var sPageURL = window.location.search.substring(1), sURLVariables = sPageURL.split('&'), sParameterName, i; for (i = 0; i
Source →
Viral: Mithun Chakraborty's daughter-in-law Madalsa Sharma dances with mom Sheela on popular Justin Timberlake song
---
LetsParWy.COM