The reason of my ecstasy – Chapter 17
Chapter :17…" Perspectives on Marriage "…
Scene 1:
Introducing Hitesh Bharadwaj as Ved Sharma.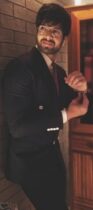 Kabir:What..??
Vansh: Riddhima is married?
Sejal: Riddhu you didn't invite me.(har friends ko best friend ki sadhi ki invite ki pari h)
Kabir: Not me also.
Riddhima:First listen to me. We are not married. He is my fiance. He is kidding. He is like this only. And about my surname, If I told you all that my surname is Chakraborty then you all will think I am Shweta only. (now don't throw chappals on me).
Kabir: Thank God!!! I thought you are married already.
Ved: Hii all of you!!! Don't get scared. As riddhu told I am like this only. I am her fiance and she is my fiancee.
Dadi:Come beta. Why are you standing there.?
Anupriya: Yes come na. You are our guest.
Angre: Where do you live in Mumbai?
Ved: I was staying in Delhi for my duty. But now I will stay here. After marrying my lady love we will go to Dubai.
Kabir: Why Dubai?
Ved: My father lives there for his business.
Riddhima: I never saw him.
Ved: Don't get upset. Even I didn't meet with him for 2years.
Riddhima: If he didn't come in our wedding then I will not marry you.
Ved:Oh ho!! Again started.
Anupriya: First all of you do your breakfasf. Then we will talk later on.
Scene 2:
In Kabir's room,
Kabir: Now what I will do? Riddhima is Ved's fiancee. I am in grave danger. If I can't keep her promise then?? No no I have to think something.
Just then Ishani comes,
Ishani: I know Kabir what you are thinking now.
Kabir: What we will do now? How we will keep our promise?
Flashback Starts:
Shweta: Kabir this is my last wish that my twin sister Riddhima should get married to Vansh. He is perfect for her. In this only Vansh will get happiness and so is for Riddhima. Please keep my last promise. Otherwise I will be worried for my sister after dying also.
Kabir: Okay Shweta. I will fulfill it. By hook or by crook.
Flashback ends.
Kabir: How can I separate them now? They love each other. If I do anything by making some plan also then 3 peoples life will get destroyed.
Ishani: Have faith in god. Whatever will happen in his will only. Birth, marriage and death is destined by god only.
Kabir: Yeah you are right.
Scene 3:
Dadi: I thought Riddhima will get married to Vansh and they will lead a happy life.
Anupriya:But what to do now? They love each other. We can't force her.
Dadi:Now god knows. Our Vansh's luck is really very bad.
Anupriya:I believe in god. He will give back happiness to him once again.
Scene 4:
Sia:It would be very good if Vansh bhai and Riddhima got married.
Angre:But now it is not possible at all.
Sia:Yeah, I know.
Angre:I can understand your feelings. But we can't do anything. Now leave all those.
Sia:What you can do also? (irritate)
Angre:I can do anything ok? (proud)
Sia:Yeah you can only run behind bhai. (sarcastic)
Sia runs saying this.
Angre: What?
He also runs behind her.
Scene 5:
The person who kidnapped Riddhima was standing infront of a huge photo frame. A garland was hanging from the photo frame.
Person:Dad I will give you justice. I will kill their whole family. Your soul will not get peace before that. I will kill them so brutally that there hand will shiver to that again. One have done the mistake but everyone will get punishment in their family.
A man enters there,
Man:Sir, I have a news for you.
Person:Say it.
Man:Riddhima is getting married to a boy.
Person:What?
Man:Yes sir. It's confirm.
Person:Who the person is?
Man:I don't know his name but he is a CBI Officer.
Person:I want all information regarding her.
Man:Don't worry Sir. I will bring it.
Man leaves.
Scene 6:
Ved:Now we should leave for VS Mansion.
Dadi:You all will go?
Riddhima:Yes Dadi our marriage preparation are there na.
Anupriya:But how can it be possible in same house.
Sejal:But who will do girl side rituals then.
Kabir:If you don't mind then riddhu can stay here. She will get marry from our house.
Anupriya:Yes. We want to do that.
Ved:Ok then you two stay here. I will explain it to mom. Don't worry. Bye guys.
Ved left from there.
Kabir(in his mind):Atleast she will stay here. I have to do something.
Here is the end of this update. You may feel boring. But trust me in all episodes high voltage drama is impossible for me. And after commenting for 100 comments I forgot about my one story only🤣. In my previous update I got 67 comments which is highest till now. All thanks to my dear readers and yes our lucky charm aayu devi ,subu, aarushi, attractive user.(If I forgot someone's name then I am sorry)Special thanks to Aisha who invented this. So  bohut hogyi acknowledgement🤪🤪. If you like my today's episode then surely like, share and comment.. Subscribe button ko press kardijiye or hum se jure rahiye. Bell ko click karlijiye taki sab se pehle notification apko mile.🤣🤣🤣. Bye all of you. Love you all. Stay in home and stay safe.
Source →
The reason of my ecstasy – Chapter 17
---
LetsParWy.COM